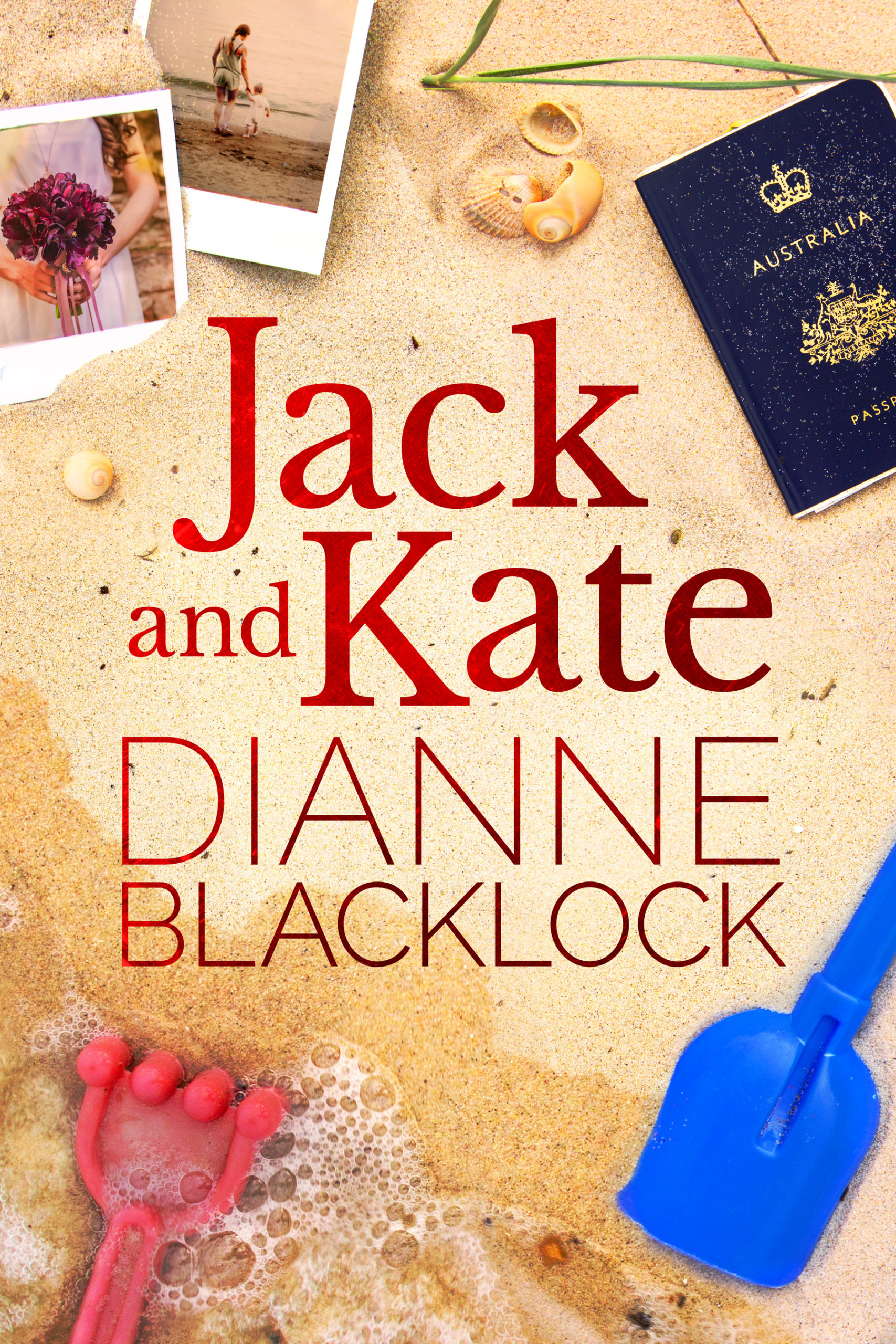 Jack and Kate
​​​​​​​ Dianne is one of Australia's most beloved writers of women's fiction and if you haven't yet read any of her books, you're in for a special treat.

— Liane Moriarty
author of Big Little Lies and The Husband's Secret
Dianne Blacklock makes her long-awaited return with a sweeping tale of first love and second chances told with her trademark warmth and humour.
It's 1980, and Kathryn Rowland is young and ambitious. She has precise plans drawn out for her future and no one is going to get in the way of them — not demanding parents, nor romantic entanglements.
But then she meets Jack Gallagher in a dark alley — long story. As one of the top fashion photographers in the country Jack knows all about ambition, but he's become bored with the picture-perfect women who surround him every day and he finds himself enchanted by independent Kate.
So how did they end up, almost a decade later, estranged, still nursing long held pain and regret? How did Jack find her, and what does he want with her son? As family secrets are revealed, and lies – so many lies – unravel, a tragedy brings them once again into each other's orbit.
Against the backdrop of Sydney in the 1980s, the fashion houses of Paris, strife-torn Ethiopia, and all the way back to a house overlooking the beach on the picturesque south coast, Jack and Kate asks if you can ever really put the past behind you.
The Best Man
​​​​​​​ Dianne Blacklock writes from the heart and The Best Man is a terrifically entertaining read about the choices we make in life.

— HOOPLA
Is the best man always the right man?
With American fiancé, Henry Darrow, publicist Madeleine has at last found the yin to her yang – or whichever way round it is. The calm to her storm, the stillness to her constant motion. Balance.
Her boss, Liv, had to be talked into marriage, which predictably ended in divorce. Liv knows that she and her twins are better off on their own anyway. She just wished everyone would stop telling her to 'put herself out there', whatever that's supposed to mean.
However, when Henry's best man arrives from the US to meet Madeleine for the first time, and Liv has a spontaneous chat with a stranger, the settled lives these women thought they had finally achieved are thrown into chaos. Secrets are unravelled and new doors are opened.
May the best man win.
The Secret Ingredient
​​​​​​​ ​​​​​​​This is another warm and intelligently written chick-lit title from Dianne Blacklock.

— BOOKSELLER & PUBLISHER
"Taste was such an evocative sense; Andie had closed her eyes, with the scone melting in her mouth, and been transported back to her grandmother's kitchen …"
Nourishment is nurture. That's what Andie learned from her grandmother and what she's always believed, but somehow, since marrying Ross, she's allowed her love of cooking to take a back seat and given up her dream of becoming a chef.
Lately she's been craving more. And as her marriage implodes, deception, betrayal and tragedy lead Andie all the way back to what really matters to her. The new Andie is ready for anything, even a bad-tempered chef who makes it clear he won't tolerate mistakes.
With help from the unlikeliest of allies, Andie uncovers the secret ingredient for a new life, and shows that no matter how many false starts, if you hold on to your passion and your dreams, anything is possible.
The Right Time
​​​​​​​ This warm genuine novel has a well-crafted plot featuring strong believable characters. If you like Cathy Kelly, Maeve Binchy or Anita Shreve, you'll enjoy this tale.

— HERALD SUN
The Beckett sisters need to shake things up.
Emma has been planning her dream wedding even since she was a little girl, and she's determined to get her happy ending. Just as soon as her boyfriend Blake gets around to proposing …
Liz is a well respected and successful doctor and supposedly the brains of the family, yet she still believes her married colleague will leave his wife for her, one day …
Evie is cheerfully married to Craig, but after three children, things have stagnated. When Craig suggests a way to spice up their relationship, Evie is horrified – but she always tries so desperately to please …
And Ellen, the eldest sister and the anchor of the family, is dealing with the end of her marriage and getting back into the dating game. But she wonders if she'll ever be able to get naked in front of another man, let alone open her heart to love again.
When their parents drop a bombshell that affects them all, and one sister must make a life-changing decision, it's the right time for the Beckett sisters to band together and face the challenges head-on.
Three's a Crowd
​​​​​​​ Blacklock's dialogue is authentic and the ending is heartwarming and wonderful. Chicklit this may be, but this is Aussie chicklit at its absolute finest.
‍
— LIBRARYTHING
"Well, we're different, we lead such different lives. I'm not sure how we'll go now without Annie. She was like Carrie, you know, in Sex and the City. Annie was our Carrie."
Without Annie, friends Catherine, Lexie and Rachel are lost. How will they fill the void? Will their friendship survive?
Catherine is characteristically unfazed, forging ahead in her high-flying career while struggling to connect to her unfathomable teenage daughter. But secrets from the past emerge to shatter her carefully constructed image, and threaten all the relationships she holds dear.
Meanwhile Lexie is juggling the demands of her young family and the ego of her hardworking husband, while taking the first tentative steps to achieving her own dreams. She just wished Annie was around to talk to – Catherine is so bossy, and Rachel … well, her head seems be more in the clouds now than ever.
Rachel knows what her friends think of her – but what they don't know is that she's currently in the thrall of a new relationship. And she doesn't want them to know, because when the truth comes out, fragile friendships will be put to the test all over again…
Crossing Paths
​​​​​​​ ... an entertaining, well-written romp for its genre and one for the Marian Keyes fans out there.

— BOOKSELLER & PUBLISHER
Jo had learned the hard way that life was not mystical, or magical; it was hard and grey and cold most of the time. Much better to see it for what it is than to be perennially disappointed.
It's not as though Jo Liddell never had dreams. She was going to be a journalist and travel the world, but life had a way of stealing her dreams right out from under her. Okay, she had her column, but heaven forbid she had an opinion about anything that mattered. And now that she's saddled herself with a hefty mortgage, Jo has resigned herself to living a less-than-perfect life.
That is, until she crosses paths with Joe Bannister – a celebrated foreign correspondent, returning home to care for his dying father, take the pressure off his long-suffering sister and maybe pull his recalcitrant brother into line. He did not expect to find himself falling for a headstrong woman who seems to resent him.
But after devastating news, Joe is forced to make an impossible choice, and Jo must fight hard for everything she never believed in – success, self-acceptance, and above all, real love.
False Advertising
​​​​​​​ The latest blockbuster by one of Australia's most talented chick lit authors. One of Blacklock's real talents is the truth of her characterisation – getting that balance of likeability and flaws just right so that the characters are real yet not too flawed ...

— MANLY DAILY
Helen and Gemma, two women who couldn't be more different, are thrown together when their lives take an unexpected turn.
Helen always tries to be a good person – she recycles, she is even polite to telemarketers. As a mother, wife, daughter and nurse, Helen is used to putting everyone's needs before her own. But it only takes one momentary lapse of concentration to shatter her life forever.
There was no such momentary lapse for Gemma, she had never done anything by halves, and she had certainly never been quiet about it. So when she barges unceremoniously into Helen's life – pregnant, alone, estranged from her family, with a once-promising career in advertising in tatters – things will never be the same again for either of them.
FALSE ADVERTISING is about loss and grief and second chances, it's about knowing when to hang on, and knowing when to move on. And it's about realising that when life falls short of our expectations, it was all just false advertising anyway.
Almost Perfect
​​​​​​​ Blacklock's affecting tale of love and coping with ambiguity is realistic and thought-provoking.

— BOOKLIST
It's no big deal to love someone who's perfect . . . The trick is to love someone despite the fact they're not.
With a beautiful house in an upscale Sydney suburb and two successful careers, anyone would think that Mac and Anna have the perfect life. But their marriage is cracking under the strain of infertility. Consumed by her dream of having a child, Anna cannot see how her pain and disappointment are driving Mac away.
Close by, in a beachside suburb, Georgie Reading and her sister-in-law have made their bookstore, The Reading Rooms, an unqualified success – unlike Georgie's love life. In her thirties, with a deadbeat roommate and no romantic prospects in sight, her beloved brother Nick suggests that maybe she's waiting for someone she was never going to find – the mythical perfect man.
Then Liam walks into the bookstore, and Georgie thinks she has finally found just that. Well, he's perfect for her, anyway. . . . At the same time Mac and Anna reach breaking point, putting Mac on a path that will have unforeseen consequences for them all.
Wife For Hire
​​​​​​​ You'll identify with many of the genuine and original characters in this book. Wife for Hire is full of humour about real relationships, pride, forgiveness and most of all, love.
‍
— SHE SAID
When she was a little girl, all Samantha Driscoll ever wanted was to be somebody's wife. She would marry a man called Tod or Brad and she would have two perfect children. But instead she married a Jeff and he's just confessed to having an affair.
Desperate times indeed. Sam has to find a way to support her kids and keep her dream house, but she has no qualifications, having given up any career aspirations she might have had to become the consummate wife. So much for that. Then she finds the job she was born for: Wife for Hire – a service offering everything from domestic help to personal shopping to planning social events for people who don't have the time – people who need a wife.
Surrounded by a gaggle of girlfriends, an eccentric sister, a mother who brings whole new meaning to the word 'demanding', and two teenagers discovering their dad has hormones too, Sam successfully manages a cast of clients from the sublime to the ridiculous, including American businessman Hal Buchanan, who insists he doesn't need her services even if they are part of his executive package. If that's the case, why does he keep hanging around?
Sam may be a born organiser, but there are some things in life that do not go to schedule.
Call Waiting
​​​​​​​ Blacklock's affecting tale of love and coping with ambiguity is realistic and thought-provoking.

— BOOKLIST
Of course Meg was a success: she planned, she set goals, she made lists. Ally never made lists.
Ally Tasker is trapped in a dead-end teaching job and a relationship that's going nowhere. Her college friend Meg has a fabulous job in advertising, a doting husband and a gorgeous baby boy. Why did Ally's life seem to be permanently on hold?
When her grandfather and sole relative dies, Ally has to return to the Southern Highlands. As she sets to restoring the rundown home of her childhood, the past unravels, and Ally realises the choice to be happy has been in her hands all along.
Meanwhile Meg's life is not as idyllic as Ally imagines. She longs to inject more passion and spontaneity into her life, but at what cost to her career, and more importantly, to the people she loves most in the world?
Sometimes you have to risk all you have to realise what is worth saving.
About Dianne
Dianne's first manuscript was picked up off the publisher's 'slush pile' in the year 2000, and since then, she has written ten novels of contemporary fiction.

To find out where Dianne is appearing to talk about her writing, you can follow her on Facebook and Twitter, or sign up for her newsletter, Book Chat, which she shares with fellow authors, Liane Moriarty and Ber Carroll.

You will also find news about upcoming courses, seminars and workshops. Dianne is also a busy freelance editor, working for a number of Australian publishers. To find out her rates and availability, or to discuss your project, please feel free email her directly below.
Contact Form
I love hearing from readers! If you have a comment or question about my books, and you want to keep it just between you and me, fill out the form below, and I'll reply as soon as I can. Your details will not appear anywhere on this site.